Login
Tipps & Tricks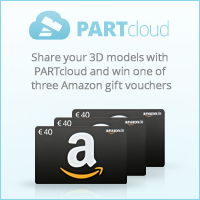 PARTcloud presents unique modern technical features like:
1. Real 3D
Upload you 3D Models - enjoy your 3D Models with your glasses in REAL3D!
2. Leap Motion Controll
Connect your Leap Motion Device – turn your 3D Models with your hands
3. Geometric Search (3D)
Find similar parts - searches and compares parts according to the respective CAD geometries.
4. Upload STL and STEP
and make your 3D models automatically able for download in many other CAD formats
5. Getting an animated GIF from your 3D